Hard Rock Atlantic City Summer Debut
Grand Opening of Hard Rock will happen this summer in Atlantic City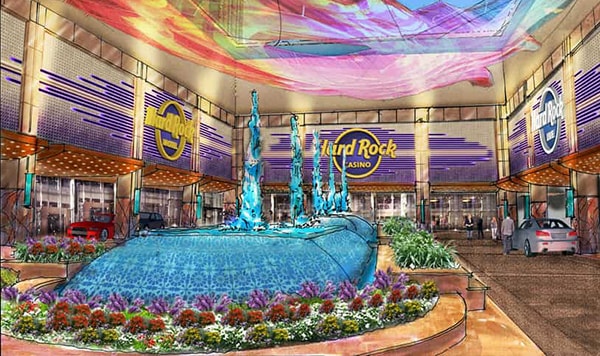 It's been almost a year since the Seminole Tribe of South Florida — which owns the Hard Rock Hotel & Casino brand – announced it had purchased, with two local businessmen, the shuttered Taj Mahal with the intention of spending as much as a half-billion dollars to turn it into a Hard Rock-branded property.

To answer the obvious first question, an opening date has not yet been fixed. All Harkness would say is that the doors to the adult playpen will swing open sometime this summer.

"Every inch of the building is going to be completely redone," said Harkness, who spent 15 years working as a Trump executive in A.C. (including a stint as the CEO of Trump Plaza).
"We're going all the way down to the concrete– in the hotel rooms, the casino floor, the restaurants. It's a complete transformation of the property, including the exterior. People won't recognize the look of the place.
Hard Rock Atlantic City will be the talk of the town when it opens. No expense has been spared.
"It's going to be on the level of what you see in Hollywood, as well as in Tampa," he added, referencing the Seminole tribe's two wildly successful Florida properties. "I believe it's going to be the centerpiece for gaming in the Northeast."

Today, Hard Rocks around the globe serve as repositories of memorabilia that cover multiple generations and genres.
As mentioned already, music will be heard almost 7 days a week.
Harkness emphasized that entertainment will not be limited to weekends, which has been an Atlantic City trend for many years. "There's great opportunity there," he said. "Hard Rock has been very successful in a number of different markets with [midweek shows]. I think there's huge potential with the midweek business."

In addition to the headliner bookings in the arena and 1,500-seat Xanadu, Harkness said there will also be live entertainment in other spaces within the complex, most notably, it can be assumed, at the relocated Hard Rock Café (which was a Taj mainstay for some 20 years).
And if you like to eat good food, there will be no better place to hang out at. Too bad they don't have kosher planned.
And speaking of restaurants, Harkness said that the inventory will include both outside operations, including a branch of the iconic White House Sub Shop and Il Mulino New York, a high-end Italian room, both of which did business at the Taj Mahal, and Hard Rock-operated eateries including Kuro, an upscale Japanese spot.

The 2,000-plus hotel rooms and suites are being modernized with complete redesigns/rebuilds. And they will offer an amenity unprecedented in Atlantic City: At check-in, guests will be able to "borrow" an electric guitar and headphones through which to play them (thereby avoiding upsetting people in neighboring rooms).